Making food at home can help you to make healthier eating choices and save you money. For inspiration to start preparing healthy meals at home, check out the links below! You'll find a wide variety of simple, tasty and budget-friendly recipe ideas.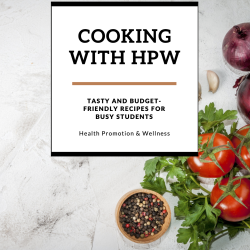 Looking for tasty and budget-friendly recipes? Check out our Cooking with HPW Cookbook!
Food is an integral part of our physical, mental, and emotional health. Our student leaders and staff put together a cookbook with all of their favorite recipes. We hope you use this cookbook to create delicious and nutritious meals for yourself, roommates, and loved ones!