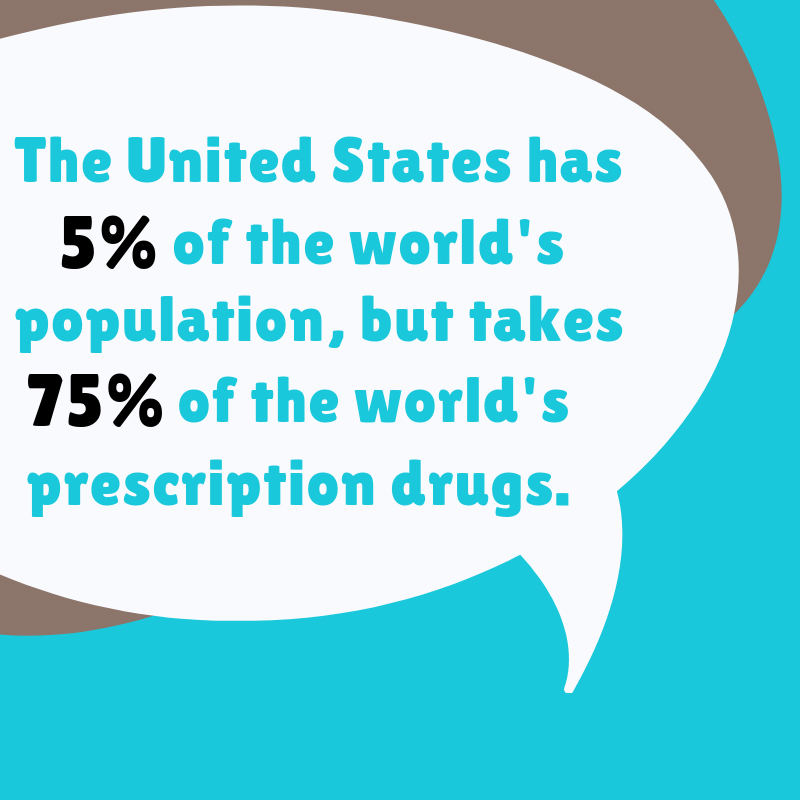 The United States has 5% of the world's population, but takes 75% of the world's prescription drugs.
Prescription drugs have helped millions of people lead longer and healthier lives. To name a few: insulin has helped people who  have been diagnosed with diabetes; antibiotics were developed to treat bacterial infections; and there are also drugs treating high cholesterol and other heart conditions. For many, prescription drugs are an important part of taking care of themselves, their bodies and their minds. If you have been prescribed a prescription drug, you can visit our guide to navigating your prescription for more information.
However, there are many people throughout the world that use prescription drugs not as directed by a doctor. This can have the opposite effect of what prescription drugs were intended to do.
There is a misconception that prescription drugs are safer than illicit drugs, but that's not the case when they are not taken as prescribed. A prescription drug is abused when a doctor did not prescribe the amount taken, when the drug is used for another reason than prescribed, or a person who was not prescribed the drug, takes it. There are health effects that can occur due to prescription drug abuse such as risk of addiction, and in other cases resulting in an overdose.
Rx drugs such as stimulants, opioids, and sedatives are being used without a physician's prescription by college students which results in a rising epidemic. Rx drug misuse is very prevalent in college students' social networks, which suggests that prevention specialists need to provide younger adults with information regarding the major consequences of prescription drug misuse for themselves and their friends.
Opioids:
Female- 6.3% SF State students reported using someone else's Rx drugs in 2016
Male- 3.9% SF State students reported using someone else's Rx drugs in 2016
Average- 6.2% SF State students reported using someone else's Rx drugs in 2016
Stimulants:
Female- 5.1% SF State students reported using someone else's Rx drugs in 2016
Male- 6.2% SF State students reported using someone else's Rx drugs in 2016
Average- 6.8% SF State students reported using someone else's Rx drugs in 2016
Sedatives:
Female- 3.7% SF State students reported using someone else's Rx drugs in 2016
Male- 3.1% SF State students reported using someone else's Rx drugs in 2016
Average- 4.4% SF State students reported using someone else's Rx drugs in 2016