Schedule a free one-on-one appointment with a Registered Dietitian Nutritionist (RDN) for individual nutrition support. Anjuman Shah, MS, RDN focuses on offering evidence-based, person-centered, compassionate care rooted in a non-diet approach, health at every size (HAES) perspective, and mindfulness strategies. She aims to promote optimal health and well-being by helping students build a positive relationship with food and their bodies. 
Common reasons for working with an RDN: 
Medical concerns involving nutrition management (e.g. diabetes, celiac disease, eating disorders, digestive conditions, heart health) 
Family history of nutrition-related health conditions (e.g., high cholesterol, hypertension, heart disease, diabetes, anemia) 
Mental health conditions that impact eating (e.g. depression, anxiety, ADHD)  
Digestive issues and/or changes in appetite or energy levels 
Food allergies and intolerances   
Vegetarian/vegan nutrition support 
Improving your relationship with food and your body 
Fueling for exercise/sports 
Other eating or nutrition-related concerns  
Nutrition Specialties
While the Registered Dietitian (Anjuman Shah) is able to support you with any health goal, she specializes in the following areas: 
Digestive conditions 
Disordered eating, intuitive eating, and body image 
Plant-based nutrition  
Diabetes and other chronic condition management 
Dietary supplements 
Initial Appointments (50 minutes)
For students who have never seen the RDN or not seen the RDN in over a year 
Includes nutritional assessment, counseling, education, and goal setting 
Please fill out the online nutrition questionnaire at least 30 minutes before your scheduled appointment. Note: You have 40 minutes to fill out the questionnaire and cannot return to the form once submitted to add more information. Please provide as much detail as possible. 
Follow-up Appointments (25 minutes)
For students who have seen the RDN within the last year 
Ongoing counseling, monitoring, and support in achieving desired health goals 
Looking for more support with improving your eating habits, eating on a budget, meal planning, grocery shopping, meal prepping, and/or other general nutrition concerns? Join our FREE nutrition workshops, cooking demos, and cooking classes happening throughout the school year.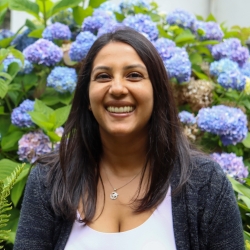 Clinic Hours:
Wednesdays 12:30 PM - 4:30 PM
Thursdays 8 AM - 12 PM
Appointments:
Appointments are currently held virtually via Zoom video chat. If you miss your appointment or do not cancel/reschedule at least 24 hours prior to your visit time, you will be billed a $20 no-show fee.
In-person appointments are available upon request only. All in-person appointments will take place at Student Health Services.
Cost:
Covered by the Student Health Services fee
To schedule an appointment, book online through MyHealth or call Student Health Services at 415-338-1251
FAQ
Weight and BMI are poor and inaccurate measures of health – in fact, current BMI ranges are based mainly on white populations and do not take body composition (including muscle mass, body fat percentage, and bone density) into account. BMI does not account for biological and genetic differences in the relationship between weight, muscle mass, and disease risk among different groups of people. 
Research shows that intentional weight loss may negatively impact health, especially when weight is lost too quickly. Incorporating consistent and balanced eating and lifestyle behaviors improves overall health and well-being regardless of weight change, and our Registered Dietitian can support you in achieving good health at any size. 
The number on a scale does not define you, your health status, or your abilities. For more information on how intentional weight loss does not support improved health outcomes, please visit HAEShealthsheets.com. 
No. We define "dieting" here as any attempt to change body size through food and/or movement. Research shows that diets don't work and may actually result in a negative relationship with food, weight gain (oftentimes even more than initially lost from dieting), and worsened health outcomes.  
All food is designed to provide energy to the body – however, the amount and quality of energy received varies based on the quantities and combinations consumed! Maximizing variety and minimizing unnecessary restrictions is the best way to keep eating consistent, joyful, and exciting. Our Registered Dietitian will work with you to find an optimal balance of foods that works best for your body. 
For more information on how dieting does not support health and well-being, please visit HAEShealthsheets.com.  
Not quite. Our Registered Dietitian believes all foods can fit into a healthy and happy lifestyle, which means that she won't tell you to avoid or cut out any of your favorite foods unless it is medically necessary (e.g., if you have a food allergy).
Our Registered Dietitian will learn about your food beliefs and eating preferences and help equip you with the knowledge and skills needed to build balanced meals in any setting and achieve your nutrition-related health goals.
In a nutshell, all Registered Dietitians are nutritionists, but not all nutritionists are Registered Dietitians. 
Registered Dietitians are nutrition professionals who must: 
Have a Bachelor's and/or Master's degree in food and nutrition sciences 

Complete a minimum of 1,200 hours of supervised practice 

Pass a rigorous examination to become licensed 

Complete continuing education hours in order to maintain their credentials 
The term "nutritionist" isn't regulated, so anyone can call themselves one. While you can find qualified nutritionists with proper education and training, there are also many people calling themselves nutritionists who have little to no education and training (especially on social media). These self-declared "nutritionists" may offer misleading, ineffective, and oftentimes harmful nutrition advice. If you are seeking evidence-based nutrition advice and support, especially for medical conditions, a Registered Dietitian is your best bet. 
The choice is yours! Exact timing depends on you, your schedule, your specific health goals, and the level of support and accountability needed to achieve them.  
Building and maintaining consistency with new habits takes time and practice – we usually recommend working with a Registered Dietitian regularly (i.e., weekly or bi-weekly) for at least 6 months for optimal results. 
Our Registered Dietitian can better assess the length of time needed to achieve long-lasting results after completing an initial consultation. Once started, you always have the option to meet less frequently or on an as-needed basis as you build more comfort and confidence with your eating.